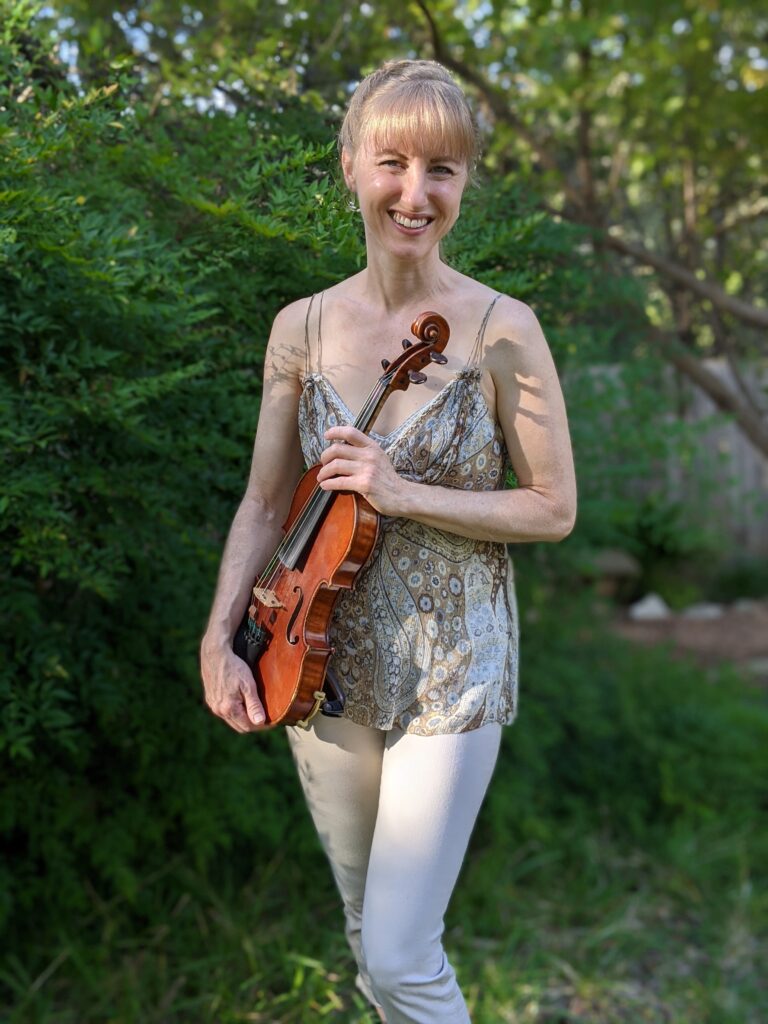 Elise Winters grew up in the heart of a tiny Suzuki community in Frederick, Maryland. At the age of four, her first memory of playing violin consisted of wandering around in circles with a margarine box "violin" held under her chin.
With the loving guidance of two completely un-musical parents and a very supportive cat named Fiocco, she somehow outlasted four violin teachers before meeting her match in the violin studio of renowned Suzuki teacher Ronda Cole in northern Virginia. Fourth-grade Elise was told at the first lesson she would need to practice two hours a day. She promptly went home and wrote out a seven-day schedule in 15-minute intervals, which she taped to her door.
In middle school Elise attended the prestigious Encore School for Strings in Hudson, Ohio, where she was adopted into the studio of Renata Knific.
During the first week students received the unexpected message that they must perform the complete set of 3-octave scales and 84 arpeggios by the end of the week or be expelled and sent home. Although she had never played 3-octave anything, the thought of calling her parents three states away to come pick her up proved to be a very effective teaching method.
Upon being selected as a finalist in the National Symphony Young Soloists Competition during high school, Elise continued her studies with Elisabeth Adkins, associate concertmaster of the National Symphony Orchestra. She attended the prestigious Meadowmount camp in upstate New York, where frigid cabins and ice-cold showers were part of cultivating the artistic spirit. Good violists being in scarce supply, entrepreneuring violinists were handed violas and responsibilities, and Elise learned alto clef on Schubert's A minor Quartet.
Elise's academic interests led her to Rice University and the violin studio of Kathleen Winkler, where she discovered that it is possible to spend a full hour on one measure of a Brahms sonata. Her violinist friends in Shepherd School were puzzled to discover an English major in their midst, while her friends in the English department referred to her as "the violinist."
Upon graduating summa cum laude from Rice University and moving to Austin, winning an audition with the Austin Symphony proved easier than getting a job as an English major. Meanwhile Elise was accepted into a graduate social work program at the University of Texas at Austin, where fellow graduate students remained perpetually perplexed why a symphony violinist would get a social work degree. She graduated as a Presidential Scholar with Master of Science in Social Work in 1999.
By this time playing full-time in the Austin Symphony and Austin Lyric Opera and beginning a 16-year tenure with the Austin Chamber Music Center as faculty and performing artist, Elise continued to develop her interests through coursework in developmental psychology, linguistics, neurolinguistics, cognition, communication, biomechanics, and self-organizing systems.
Meanwhile the college English degree made an unexpected (and late) debut in Buzz to Brilliance: A Beginning and Intermediate Guide to Trumpet Playing (Oxford University Press, 2009) co-authored with friend and trumpet artist Adrian Griffin. During this period her free time was spent exploring the work of authors Gregory Bateson, Jane Jacobs, Richard Dawkins and Steven Pinker.
Upon discovering that working with violin students was a bit like social work with four strings and a bow, Elise enrolled in a summer Suzuki teacher training with her childhood teacher Ronda Cole. Her former teacher's passion for cultivating excellence in young people awakened Elise's own quest for excellence as a teacher, and she began studying the methods of Dorothy Delay, Ivan Galamian, Sally O'Reilly and other great teachers.
In 2009 a chance conversation with Klondike Steadman, director of Orpheus School of Music, led to an invitation to join the Orpheus faculty and write their violin curriculum. At Orpheus Elise was introduced to the Kodály methodology, and went on to complete her three-year Kodály training in 2015 at the University of Indiana under Brent Gault and Georgia Newlin.
The name "Kaleidoscopes" as well as the cover artwork were chosen in fall of 2009. Elise spent the next 9 years immersed in music libraries from Austin to Paris, sitting around campfires with Bulgarian folk singers and Irish fiddlers at the Lark Camp in Mendocino, California, and combing through bookstores in Prague and Munich. Her years as an editor of the Rice Thresher paid off as she worked and re-worked the books' content and layout.
In spite of their teacher's startling laugh and over-reliance on coffee, Elise's violin students have all survived her studio and continued on to New England Conservatory, the band Mother Falcon, Yale University, Boston Philharmonic, and the New York String Orchestra.
Elise has been a featured presenter at the American String Teachers Association (ASTA) national conference. Her presentations from past years include "Spoonful of Sugar: Games & Activities that Make Practicing Fun" (2013), "Guiding the Brain: Psychological Tools for Technical Control and Musical Expression" (2017), and "Trauma-Informed Music Teaching: Somatic Resourcing and Therapeutic Presence" (2023).
Elise is a Landmark Education senior graduate. She resides in Austin, Texas but loves visiting her family on the East coast. When she is not working she can be found making Indian curry, attending Five Rhythms dance, or enjoying a latte at Monkey's Nest Coffee.