"The shortest pencil is better than the longest memory." —Anonymous
At my most recent student recital, one of the moms (who happened to be a piano teacher) noticed I had my recital checklist sitting on my chair. She picked it up, began reading it, and a minute later asked, "Could I have this? These are all the things that I do, but I've never actually written them down!"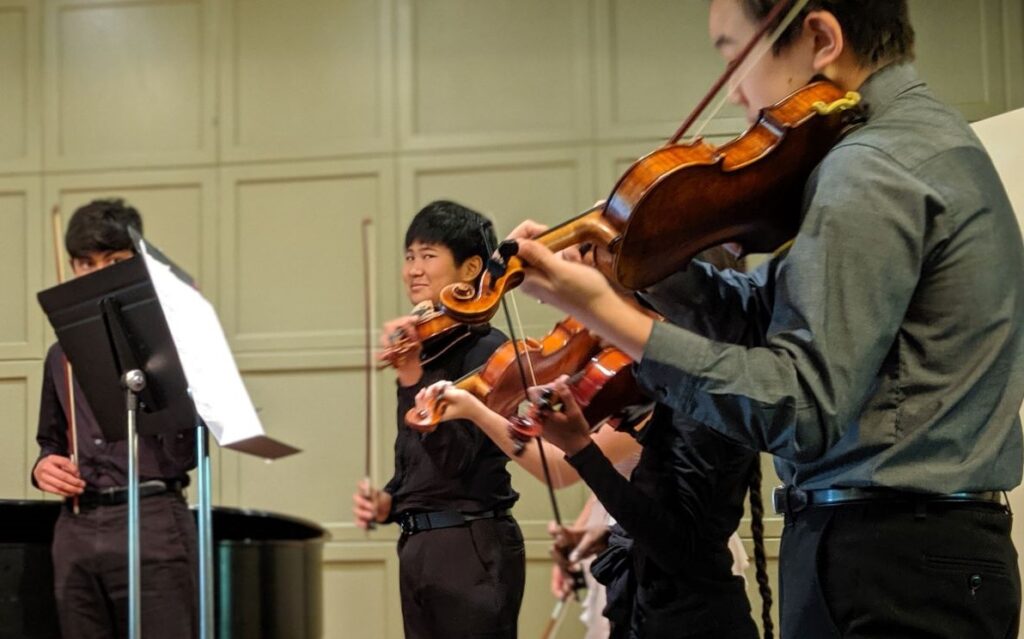 I like to think of myself as a disorganized person who is barely saved from disaster by my ability to use lists. So here are my checklists, with some additional planning notes for teachers doing recitals for the first time. The lists are at the bottom of the article, so feel free to skip straight to these. 
I hope you find these useful as you plan your studio recitals!
Venue
Reserve this as early as possible. You can use a recital hall, church, community center, or retirement home. If using a piano, ask how often it is tuned (consider paying for an extra tuning if the venue itself is affordable). If you have a large gathering area in your home it can be enjoyable to host several smaller recitals (6–8 families each) instead of one larger one.
Accompanist
A professional pianist will generally be able to accompany a full recital (16–20 students of mixed levels). If using an accompanist for the first time it may be wise to distribute this workload between two pianists.
I like to make things as easy as possible for the pianist by handling most of the rehearsal scheduling. I ask them for several time windows then have families indicate their availability on a Google doc. Here are my rough timings for the rehearsal schedule:
Book 1: 10-15 minute rehearsal
Books 2–3: 15 minutes
Book 4–7, up to 3 pages in length: 15-20 minutes
Accolay, Haydn, La Folia, etc.: 20-25 minutes
Classical sonata movement: 25 minutes
Classical concerto movement (e.g. Mozart): 30 minutes
Movement of Bruch, Mendelssohn, etc.: 35 minutes
In the past I had families pay the pianist directly, but this means the accompanist must track many families. Now I simply collect payment from students with their semester tuition, then write the pianist a single check for their total rehearsing and performing hours.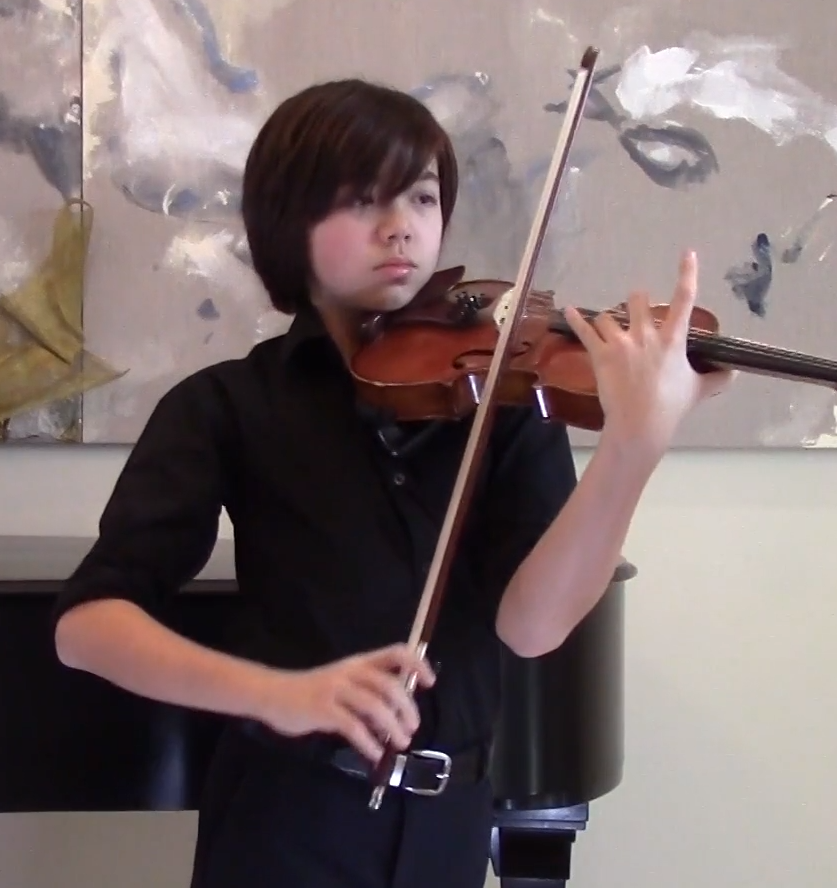 For simplicity I divide the accompanist cost equally among all families. While there are some variations in rehearsal length, the younger students are inspired by hearing solos performed by advanced students, and the costs even out as students develop.
Teacher Performance
I used to believe I shouldn't perform during student recitals because it would take away from the students. I had never heard my childhood teachers perform, so this seemed normal to me.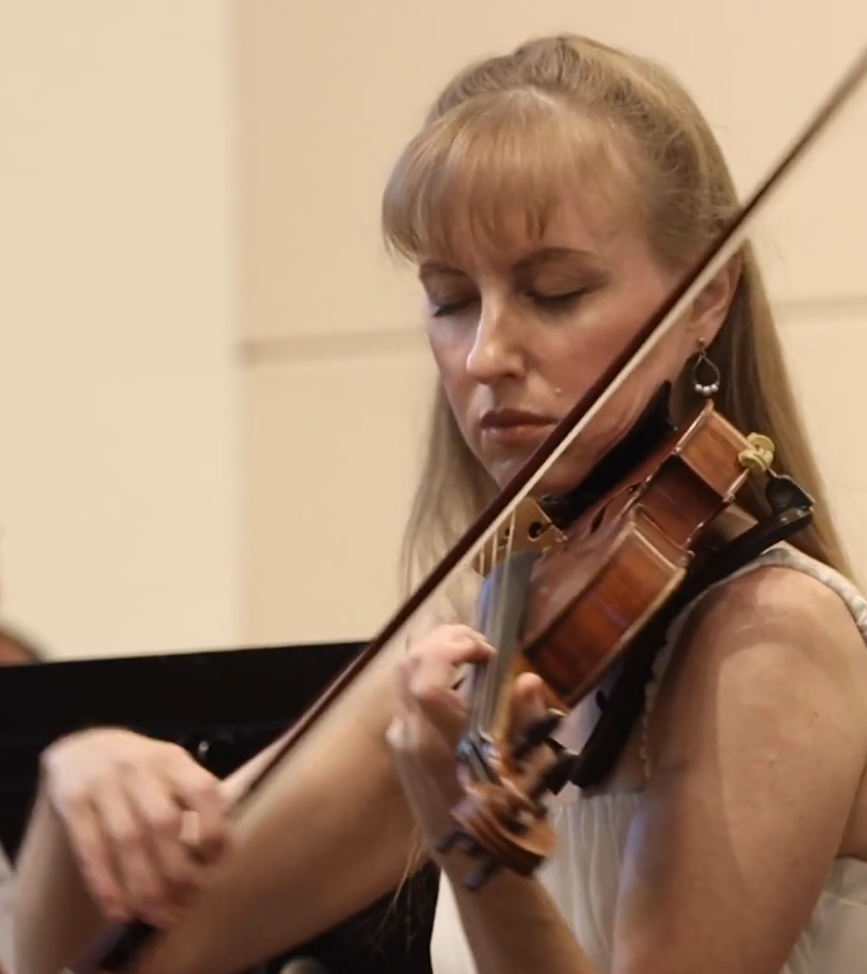 However, a few years ago I performed impromptu because one of the recitals didn't have an advanced student. Immediately afterwards, a dozen parents rushed up to tell me how much they appreciated hearing me play. Several told straight up that I should perform on EVERY recital.
Parents and students benefit from hearing the contrast between you and your students (even the advanced ones!). Your expressiveness and stage presence will inspire your students, affirm  parents' trust in you, and reward their generosity in listening to the student performances.
Repertoire-wise, choose something relatively short which won't require a great deal of preparation, such as a Baroque or classical sonata movement. This is a nice opportunity to learn repertoire that may eventually come in handy with students.
Reception
The reception is almost certainly the highlight of the day for most students (and their siblings!). The reception ensures that families stay to socialize, building studio friendships over time.
Potluck receptions can be burdensome for families, and often involve last-minute sprints to the grocery on the way to the venue. With this in mind, a few years ago I began having the studio provide the reception. This is also nice way for me to "treat" parents and show my appreciation for their hard work.
The reception need not be fancy. A good starting point is appetizers (cheese and crackers, finger sandwiches, or skewers), cookies, brownies, or cupcakes; and water. You may have a "foodie" parent prepare some items (with ingredients reimbursed by the studio) or order from a deli. Even a little bit of catering effort creates an event that is much more special.
I do ask for parent volunteers to help manage the reception table. Parents enjoy doing this (and do a better job than I do!), and this frees me to be fully present with students and families after the recital.
Honors and Awards
At the final recital of the year I do an honors ceremony. I have a few "standing" categories with a junior and senior division, with first and second place in each. Unique awards can also be created based on students' particular accomplishments. You can announce awards just before each student plays, or do the awards all together before the last performer. Here are some of mine:
Graduating Book 1, 2, 3, 4, etc.
Achievement Award for Vibrato | Bow Technique
Outstanding Performance of a Baroque | Classical | Romantic piece
Nicola Benedetti Award for Outstanding Dedication and Accomplishment
Gil Shaham Award for Posture & Poise
Midori Award for Technical Brilliance
Itzhak Perlman Award for Musical Expression
Graduating seniors
Graduating seniors may treasure a gift that commemorates the ending of this important relationship. My most frequent gifts are a book of wisdom or poetry (I write an inscription inside the cover) or framed artwork (e.g. a quotation that I've chosen, formatted and printed).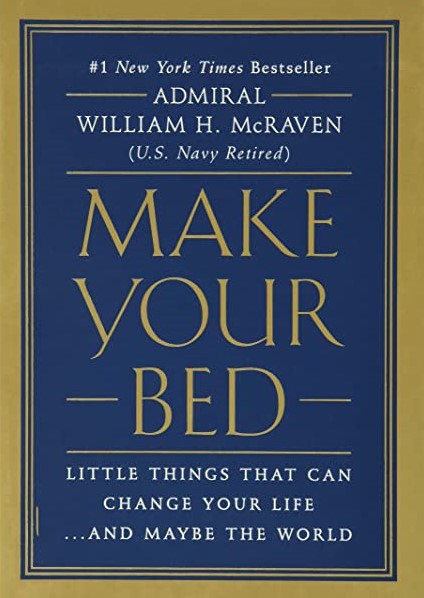 Opening and Closing Comments
While it is not necessary to give an elaborate speech, recitals are a rare opportunity to address everyone in the studio all together. The moment seems to call for something a little more meaningful than bathroom locations.
A typical week for parents includes a steady stream of homework, school events, and work commitments. With all this busyness, recitals can feel like "one more thing." My hope is to help parents slow down and smell the roses, and to connect with those whom I may see only twice a year.
Although I'm relatively comfortable with public speaking, years of experience have taught me that I should not count on "winging it." I can deliver a much more meaningful address if I've thoroughly prepared my message ahead of time.
As I prepare, I consider my values as a teacher of the arts — self-expression, emotional intelligence, discipline, leadership, self-reliance, creativity, and culture (to name a few). I may begin by reading a poem or prose excerpt, then follow with my own reflections. Alternately I may share a personal story, which can be touching or humorous in nature. As always, brevity is the soul of wit — under two minutes is best.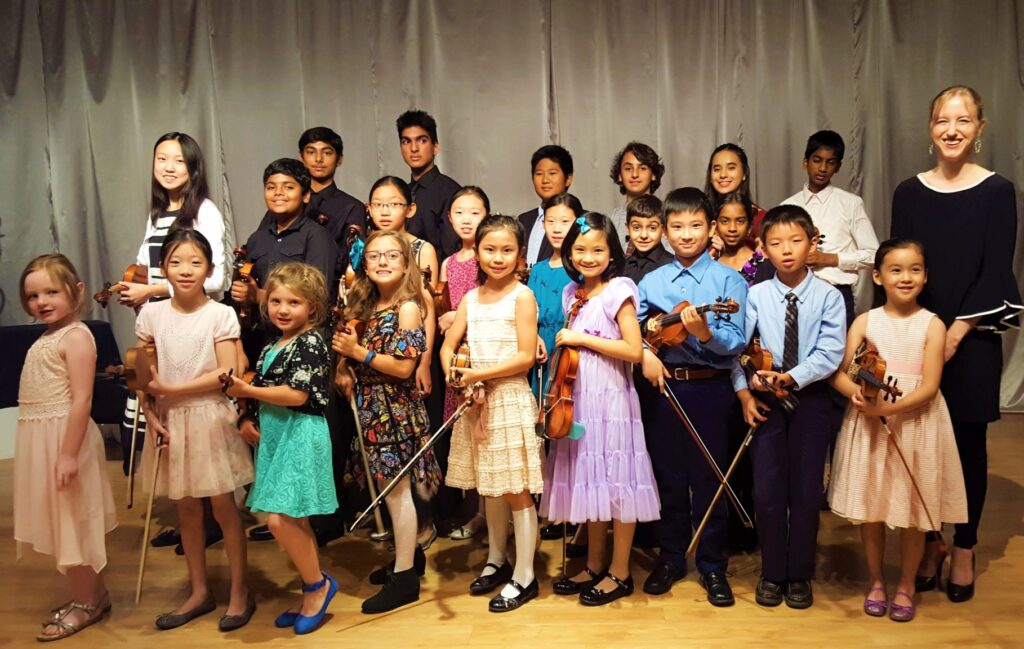 At the end of the recital I request a round of applause for all the performers, then for the accompanist and the parents themselves. Then we have a group picture, followed by the reception.
Arranging the Program
For program order, my rule of thumb is to start and end with strong players and mix up the rest. This creates variety and eases the natural tendency to compare students.
I avoid placing a weaker student directly after a strong player of similar age, and avoid having siblings back-to-back (so they can be fully present for each others' performances).
I include the bios of each violin teacher and accompanist on the program — parents enjoy reading these! I also include the full name and dates of each composer, which provides important historical context for audience members (including students).
Attire
Formal attire can help students play their best, but it may need some updating to avoid enforcing gender norms. Here is the language I use: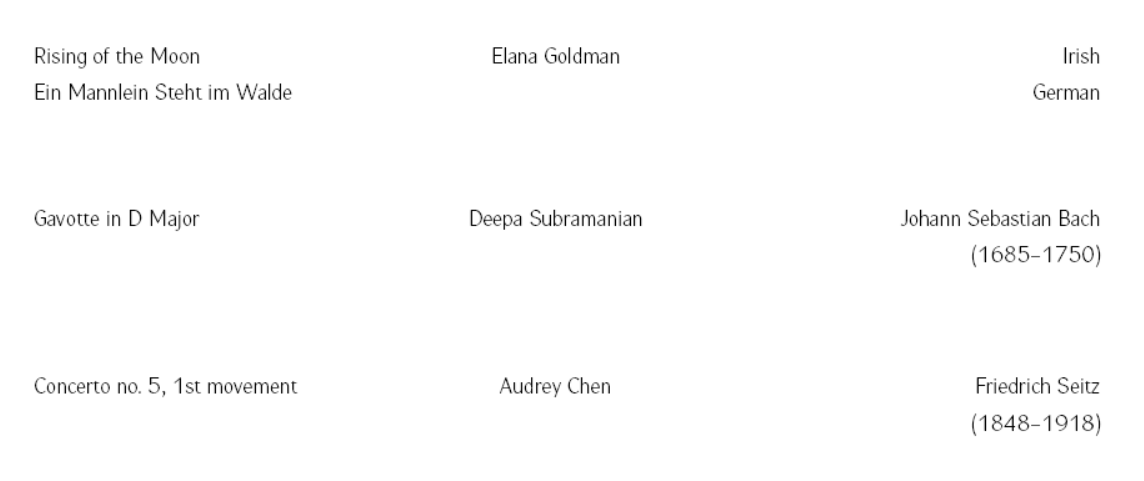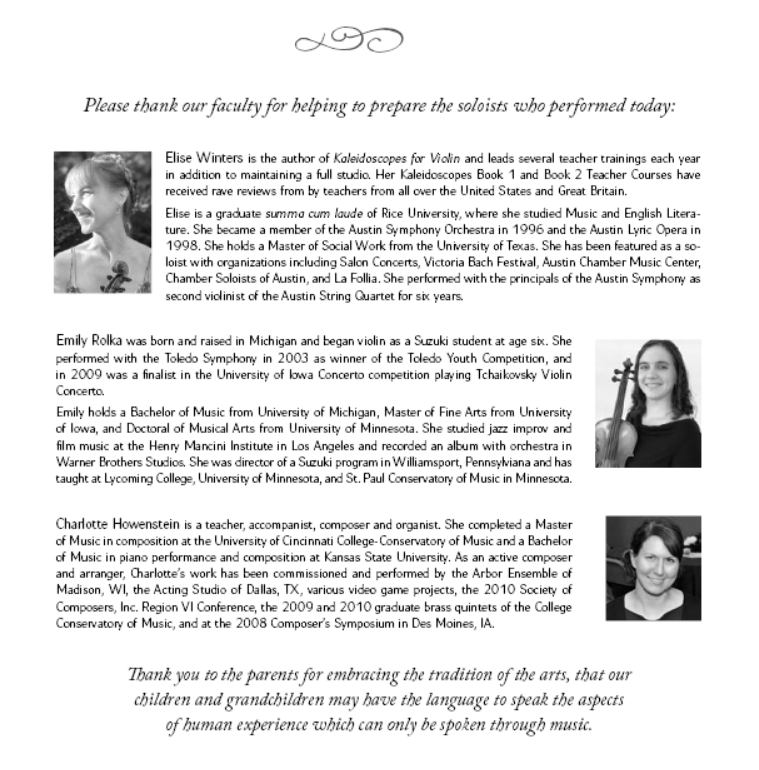 Option 1: Nice pants and a clean, pressed shirt. Dress shoes with full-length socks, or sandals. Please avoid wearing a tie, which interferes with holding the instrument; or suit jacket, which restricts movement.
Option 2: Formal or semi-formal dress, knee-length or below. Dressy flats or low-heel shoes. Please avoid low-cut dresses, which can slip out of place during animated movement; and high heels, which change your balance and limit range of motion.
Timing and Flow
Here are a three more tips that have made my recitals go a little smoothly:
Students arrive 25 minutes early. This is just enough time for tuning, attendance, and warming up.
I make sure to reserve my own seat in the audience, with a good view and close access to the stage. I designate a seat near me for the "next up" performer. Students move into this seat one person ahead of time and I quietly check their strings during the applause. Most students are not yet proficient with re-tuning on stage, so this avoids any surprises. I can also give them a smile and word of encouragement just before they go on.
During the 20 minutes before the recital when parents are just sitting there, I've discovered it is really nice to have music playing. This sets a beautiful mood, and I find it calming as well.
With these thoughts out of the way, let's move on to the actual checklists.
Recital Supplies
RECITAL SUPPLY BOX
Napkins, snack-size plates, cups
Forks, spoons, utensil holder
Three-tier servers, platters, tablecloth
Pie servers, tongs
Cloth kitchen towels, natural disinfectant spray
Masking tape (to mark where students will stand)
Scrap paper, pen & pencil, scissors, and a Sharpie (for last-minute needs)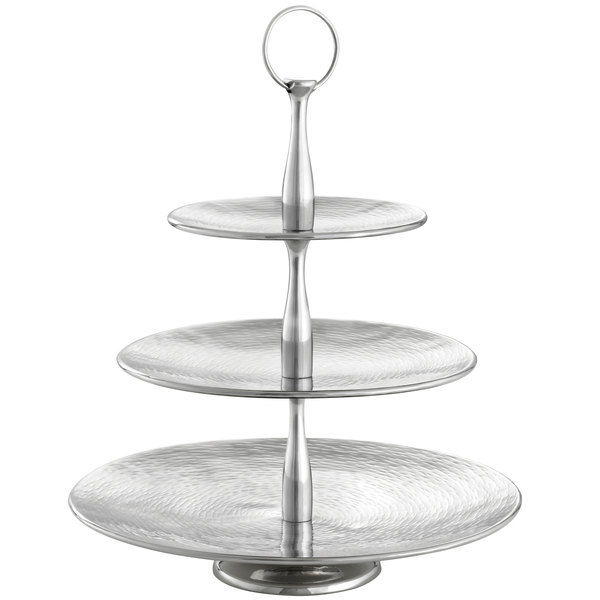 OTHER SUPPLIES
Video camera, memory card, tripod, extension cord, charger
Speaker, phone, phone charger
Tuner, music stand, music scores
Water, protein bar (eaten just beforehand, so I can focus on mingling with parents during the reception)
Programs, studio contact list
Decorations, if desired (e.g. balloons or flowers)
4 to 8 Weeks Before
Students begin practicing with the piano recording
Choose menu for reception
Decide gifts for graduating seniors
Choose performance piece
Finalize accompanist schedule
Engage photographer if desired (can be a friend or family member)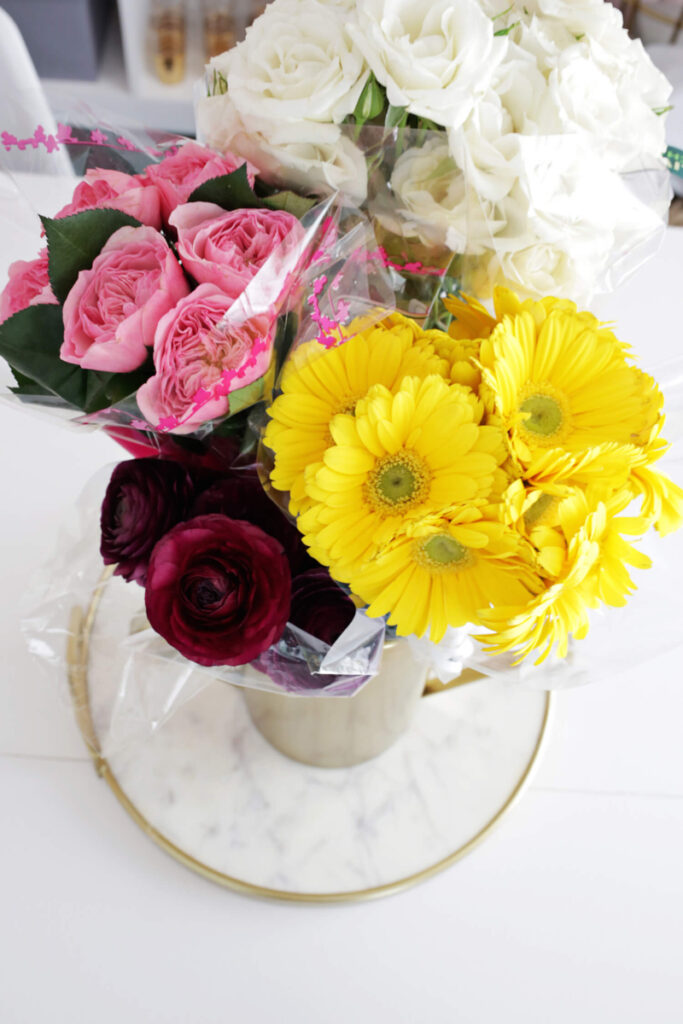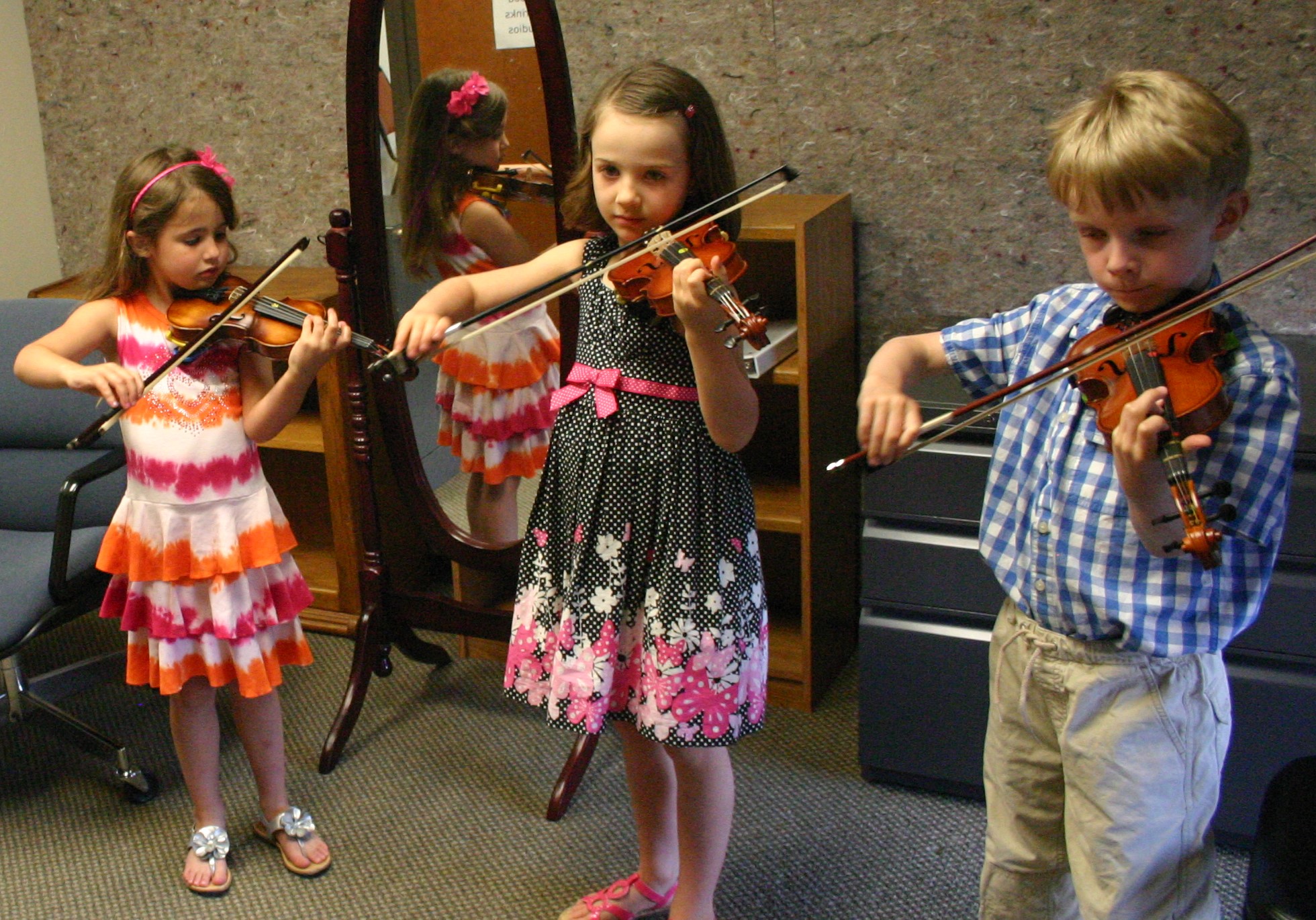 2 to 3 Weeks Before
Students and teacher rehearse with pianist
Review rehearsal videos during lesson
Finalize reception food & decor
Send email invites for families to distribute
Confirm parent volunteers for the reception and other needs
Students perform their solos during special group classes
Create the recital program (cross-check names with studio master list)
Recital Week
Confirm venue and obtain key
Write pre-recital comments and acknowledgments of graduating seniors
Choose awards & print certificates if desired
Purchase groceries & reception supplies
Send recital program to parents for review
Calculate accompanist fee
Print programs (2 per performer tends to be about right, as families tend to share)
Pick up reception food and beverages
Recital Day
Load all recital supplies (see list above)
Arrive at least 60 minutes early; 90 minutes is better (there are often unexpected re-arranging needs upon arrival)
Set up the reception area and decorations
Reserve chairs for myself and "next up" student
Set up video camera
Set up speaker and begin chosen playlist
Place programs on a music stand by the door
Position piano toward the center of stage
Use masking tape to mark where young students should stand
Calibrate the tuner to the piano "A"
Take attendance (send texts to any late arrivals)
Mentally rehearse opening remarks and solo
Recital Ready
Please share in the comments your own ideas, or those items above you found particularly interesting or valuable. I hope you have a beautiful and successful event!